Tough-Tags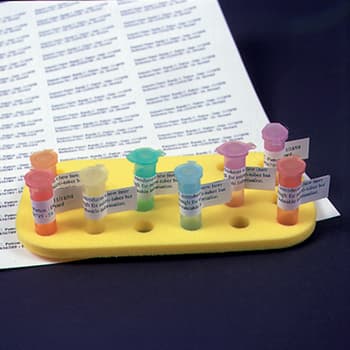 Flag-Tags Labels on Sheets
Get extra labeling space on 0.5 to 2.0 mL tubes with Flag-Tags. 2.5" L x 0.5" W, 60/sheet, 1500/box. White.
USD
https://t27776-s44382.mozu.com/flag-tags-2.5x0.5-white/p/9135-1000
Heat-resistant 8" x 11" sheets stay flat and will not jam in laser printers. Includes instructions for printing with Microsoft® Word. Tough-Tags are chemical-resistant, flexible, polyester labels that can withstand autoclaving, boiling water baths, freezing to -40°C, or heating up to 121°C without peeling, cracking, or falling off. They adhere strongly to plastics and other materials.

Flag-Tags are extra long and will extend beyond the tube to allow you to add detailed information to the label. Twenty-five sheets of labels per box.