USA Scientific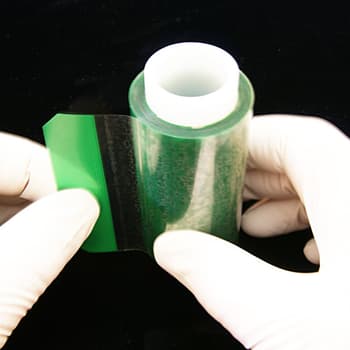 EasyApp Microplate Film Rolls
EasyApp microplate film on 100-sheet rolls. 2 rolls/pack. Choose non-sterile or sterile.
145.3500

USD

$145.35
197.8500

USD

$197.85
USD
USD
https://t27776-s44382.mozu.com/easyapp-microplate-film-rolls/p/EasyApp-Poly-Roll
Polyester film for ELISA/EIA applications, short term storage, or incubations. Non-pierceable; 38 µm thick. For use from -40°C to +120°C. Green end tabs; 100 applications/roll.
Pull out one pre-measured length of film, apply it to the plate, tear at the perforation, and seal with the same dispenser. The EasyApp sealing film system requires no storage boxes, bags, or liner paper. Pulling a seal from the roll is easier than taking one out of a bag. The dispenser also helps you keep a grasp on the film for better alignment and reduced risk of accidental contact. Plates can be sealed up to three times faster than with conventional film, and there is no backing paper to discard.
EasyApp film rolls are color-coded (green) for easy identification and feature the same materials as our best-selling 2920-0000 microplate films.
Apply using the EasyApp film dispenser 2976-0000.