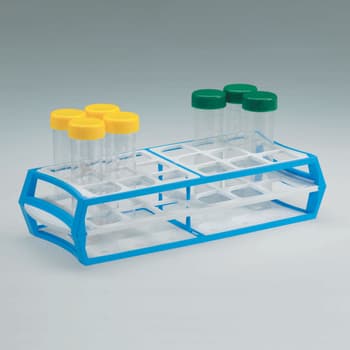 18-Place Polymer Tube Rack, Blue
18-place acetal polymer tube rack, blue, 1/pack.
USD
https://t27776-s44382.mozu.com/18-place-polymer-rack-blue/p/2318-2501
18-place acetal polymer tube rack holds tubes up to 30 mm in diameter, including most 50 mL conical tubes. (Allow empty spaces between 50 ml tubes with caps.) Blue/white, one per pack.

Acetal polymer racks are resistant to most laboratory chemicals. Suitable for water baths, freezers, incubators, and many other uses. Unlike coated metal racks, there is no coating to peel off and the rack can not rust. Measures 11 11/16" L x 4" W x 2" H.