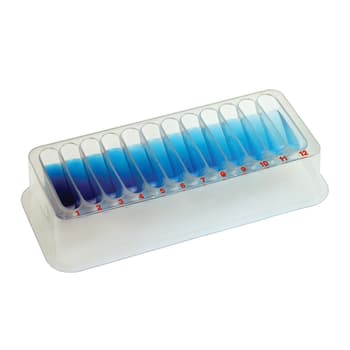 12-Well V-Bottom Reservoir
Twelve well v-bottom reservoir with lid, individually wrapped. Choose non-sterile or sterilized.
155.6000

USD

$155.60
253.1000

USD

$253.10
USD
USD
https://t27776-s44382.mozu.com/12-well-v-bottom-reservoir/p/12-Well-V-Res
Reservoir with 12 wells makes it easy to dispense separate solutions simultaneously. Each v-shaped well holds up to 3 mL. The 9 mm spacing is compatible with multichannel pipettors and 96-well plates. Numbered wells ensure accurate sample reference. Autoclavable, non-reactive polypropylene. Individually wrapped with lid.
Non-sterile: 50/pack
Sterile: 20/pack