TempAssure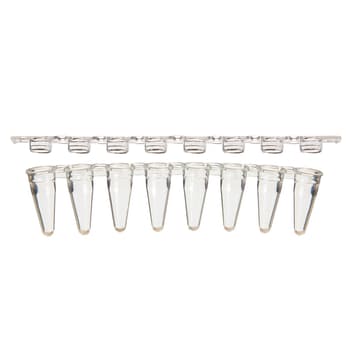 TempAssure 0.1 mL PCR Flex-Free 8-Tube Strips with Optical Cap Strips
Free Compact PCR Rack with purchase. See details below.


0.1 mL PCR tube strips with strips of optically clear caps. Flex-free design. 125 strips of 8 (1000 tubes/caps) per box.
$129.10
$129.10
92.4000

USD

$92.40
USD
https://t27776-s44382.mozu.com/0.1ml-pcr-8-tubestrip-clear-flat-8-capstrip/p/PCR-Tu-Flex-Optic
Buy 3 boxes of PCR tube strips (same item only) and get a free pack of 5 compact PCR racks!
Add item
2300-9602
to your cart to receive offer. Limit one deal per order. Offer expires January 31, 2022.
Flex-free strips are reinforced to resist bending while handling. Natural color tubes in strips of eight have optically clear caps.
Polypropylene thin wall tubes provide rapid, even heat transfer for reliable amplifications. Manufactured in clean room conditions and certified free of detectable levels of DNase, RNase, DNA, and PCR inhibitors. Tested pyrogen-free and non-autofluorescent. Made in the USA.
Includes separate flat cap strips for sealing. Strips of 8 tubes and caps have 125 strips (1000) each of tubes and caps per pack.