Titer-Tops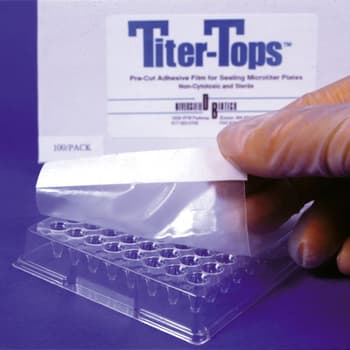 Pierceable polyethylene sealing film for use from -40°C to +100°C. Certified RNase, DNase, and nucleic acid free. Sterile.
40.9500

USD

$40.95
70.0500

USD

$70.05
USD
USD
https://t27776-s44382.mozu.com/titer-tops-sealing-film/p/titer-tops
Polyethylene film is non-cytotoxic, gamma sterilized, and easily pierced with a pipet tip. Waterproof, solvent resistant acrylic adhesive is FDA approved. Two scored end tabs. Available in boxes of 50 or 100 sheets.
Measures 152.4 x 82.6 mm (including two end tabs). UV transparent to 250 nm. Polyethylene base, acrylic adhesive; total 112 µm thick.