TempPlate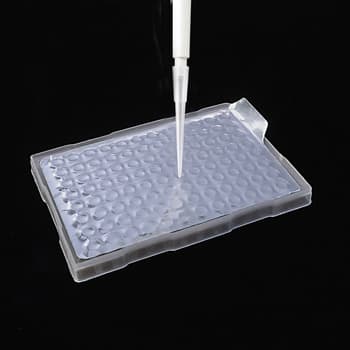 Single Tab Sealing Foil, Inset Cut
Pliable foil is cut smaller to fit plates with raised side walls. One small, non-perforated end tab. Certified RNase, DNase, and nucleic acid free. 100/box.
$60.70
$60.70
54.2000

USD

$54.20
USD
https://t27776-s44382.mozu.com/single-tab-inset-foil/p/2939-6100
Aluminum single tab foil, inset cut, pierceable, -80°C to +120°C, non-sterile, 100/box.
Single-tab sealing foil is cut to a smaller size to fit inside of plates that have raised walls on their perimeters. Also suitable for use with plates without raised walls.
Features one non-perforated end tab. Measures 127 x 77.8 mm (including the single 9.5 mm end tab). 38µm aluminum base with 38µm acrylic adhesive. Recommended for PCR and cold storage applications. Certified free of detectable levels of DNase, RNase, and nucleic acids.