USA Scientific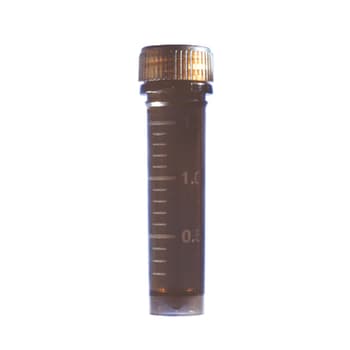 Screw Cap Microcentrifuge Tubes, Self-Standing, Amber
Light-blocking, self-standing screw cap microcentrifuge tubes are skirted with a conical interior base. 500 tubes and caps per pack.
95.2000

USD

$95.20
98.1500

USD

$98.15
USD
USD
https://t27776-s44382.mozu.com/screw-cap-micro-tube-skirted-amber/p/sct-skirt-amb
Amber caps seal with just 1.25 turns
Saf-T-Seal™ tubes withstand centrifugation up to 20,000 × g
Suitable for boiling, vapor-phase liquid nitrogen, or -80°C storage
Deep external threads protect against sample loss and seal failure. An interior U channel in the cap keeps the ethylene propylene rubber (EPR) O-ring in place as the cap is tightened. 2.0 mL tubes have graduations and a writing surface; 0.5 mL and 1.5 mL tubes have no markings. Non-sterile tubes are certified free of detectable RNase, DNase, and DNA. Autoclavable polypropylene.