Scientific Industries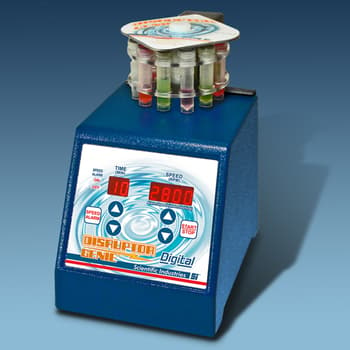 The powerful Digital Disruptor Genie disrupts cells ad re-suspends pellets.
$780.51
$780.51
741.5000

USD

$741.50
USD
https://t27776-s44382.mozu.com/digital-disruptor-genie/p/7403-3380
Disrupts cells and re-suspends pellets
Extremely powerful high-speed agitation (1000-3000 rpm)
Auto-off 99-minute timer or continuous operation
Multidirectional action simultaneously agitates and vortexes at high-speed, dramatically increasing disruption efficiency. Rapidly disrupts yeast cells, bacteria, plant, and animal tissue when used in glass bead procedures and re-suspends cells for DNA minipreps. The tube holder can be removed and replaced with a cup holder (included) for continuous or timed vortexing of single tubes.
The Digial Disruptor Genie has a digital display of speed and time for increased accuracy and reproducibility. Holds up to 12 1.5/2.0 mL microcentrifuge tubes or screw cap tubes. The base measures 6.5" L x 4.8" W x 7.5" H and weighs 8.8 pounds. 120 V, 60 Hz. Two year warranty. Made in the USA.