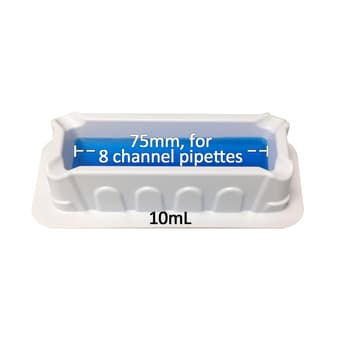 10 mL white graduated polystyrene reservoirs, sterile. 100/pack, individually wrapped.

USD
https://t27776-s44382.mozu.com/10ml-graduated-reservoir/p/1930-2100
White polystyrene reservoirs have angled sides with graduations at 1 and 5 mL. A narrow, V-shaped micro-channel at the base improves recovery of small volumes. Strong sides and wide bases provide stability and easy handling. Corner pour spouts help avoid spills when emptying. Do not autoclave. Sterile reservoirs are certified free of detectable DNase, RNase, and pyrogens.